HOW DO MY VOCAL CORDS WORK?
Your vocal cords (also called vocal folds) are two bands of muscle that sit horizontally inside your voice box which is your larynx. When you sing breathing in, your vocal cords open. As you exhale while singing, a resistance of air flow is created by the vocal cords coming together creating sound. As they resist the air flow your vocal cords will vibrate producing the sound waves for your voice. Air pressure from the resistance is converted into sound waves.
When you sing there are two opposing forces that need to happen to make the sound. The air coming from your lungs, traveling through the windpipe vertically. As the air is passing through your windpipe the vocal cords (folds) close horizontally over the windpipe creating the resistance of air. These two occurrences happen with the exhalation of air. This creates the air pressure (resistance), which in turn creates the sound.
Try this, make the mmm sound (like something tastes good). Did you notice the vibration? That's the opening and closing of your vocal cords making the sound.
JOKE FOR THE DAY:
Opera is when a guy gets stabbed in the back and instead of bleeding…he sings!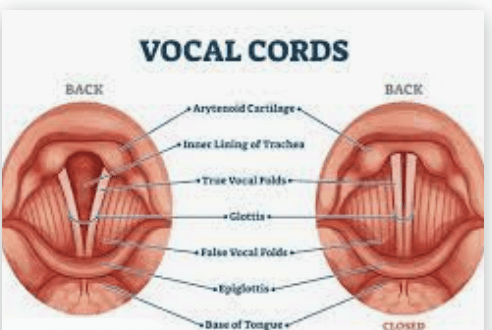 #michelleostrovevocalandpianostudio #voicelessons #singinglessons #pianolessons #vocalcoach #voicecoach #vocalcoaching #michelleostrove #voiceteacher #singingteacher #pianoteacher #voiceinstruction #singinginstruction #pianoinstruction #rockcellarmusicschool #michelleostroveblog #singingcoach #losangeles #newyork #atlanta #Nashville #gainsvillega #oxnard #ventura #camarillo #thousandoaks #newburypark #westlake #chatsworth #calabasas #northridge #woodlandhills #westhills #dosvientos #bellcanyon #porterranch #simivalley #bellcanyon #buford #LA #ATL #NYC #singer #singing #workingonme #lifegoals #songwriter #musician #artist #musicalartist #supportthearts #thearts #dreams #chasingdream #chasingdreams #careergoals #piano #sing #movoice #voicelessonsoxnard #voicelessonscamarillo #voicelessonsventura #voicelessonsnewburypark #voicelessonsthousandoaks #voicelessonschatsworth #singinglessonsoxnard #singinglessonscamarillo #singinglessonsventura #singinglessonsthousandoaks #singinglessonsnewburypark #singinglessonsdosvientos #singinglessonschatsworth #pianolessonsoxnard #pianolessonscamarillo #pianolessonsventura #pianolessonsthousandoaks #pianolessonsnewburypark #pianolessonsdosvientos #pianolessonschatsworth #pianolessonswoodlandhills #voicelessonswoodlandhills #singinglessonswoodlandhills #voicelessonsgainsvillega #singinglessonsgainsvillega #pianolessonsgainsvillega #vocalcoachoxnard #vocalcoachwoodlandhills #vocalcoachchatsworth #vocalcoachnewburypark #vocalcoachthousandoaks #vocalcoachdosvientos #vocalcoachventura #vocalcoachcamarillo #vocalcoachatlanta #voicelessonsatlanta #singinglessonsatlanta #voicelessonsburford #singinglessonsbuford #vocalcoachbuford #pianolessonsbuford #pianolessonsgainsvillega #vocalcoachgainsvillega